July 18, 2022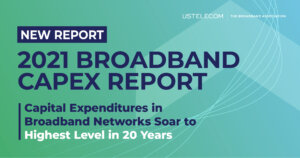 With the focus on the generational opportunity at hand for broadband deployment, it is not surprising that we are at a high-water mark for communications investment. Observers may not realize that private industry is leading the charge with investment levels not seen in the past 20 years.
USTelecom's annual report on broadband industry capital expenditures (capex) tells the tale, showing that broadband providers invested at least $86 billion in 2021. This number is staggering. It represents an 8.3% increase from 2020 alone and is more than $5 billion more than the next highest amount since 2002 ($80.8 billion in 2019).
Context matters too. Congress, via the BEAD program, is set to invest $42.5 billion in broadband, spread over four years. While this is an unprecedented government effort to bring broadband to all in America, particularly those in hard-to-reach places, the BEAD investment is less than half of what the industry invested last year alone.
Yet even at this elevated level, the 2021 capex investment total is not surprising for two reasons. First, broadband deployment generally—and fiber deployment specifically—has been proceeding at unprecedented levels. Analysts show that a selection of companies have announced that they will bringing fiber to 50 million additional households in the coming years.
Second, the 2021 investment total builds on a longstanding trend of continual communications network investment. In fact, since 1996, private U.S. communications providers have invested approximately $2 TRILLION ($2,000,000,000,000) building out America's world-leading communications infrastructure. This amount is 67% higher than the funding for the entire Infrastructure Investment and Jobs Act, which was designed to reinvigorate all of America's infrastructure.
Our work is not done. There are still many homes to connect and digital divides of many forms to bridge. But 2021's $86 billion capex investment is important because it represents our commitment to bringing all in America the communications networks of the future. When combined with significant government investment to promote deployment and adoption, we are closer than ever to reaching our goal of universal connectivity.