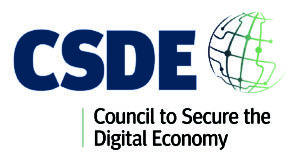 This event was presented on November 29, 2018 and is available on-demand here.
Join CSDE for the release of the International Anti-Botnet Report. Industry experts will discuss the development of the report and strategies for government and industry collaboration on combating cyber threats domestically and internationally.
---
Welcome
Robert Mayer, Senior Vice President, Cybersecurity, USTelecom
Keynote
The Honorable Christopher Krebs, Director, DHS Cybersecurity and Infrastructure Security Agency (CISA)
Panel 1: The Development of the International Anti-Botnet Guide
Jonathan Spalter, President and CEO, USTelecom
Dean Garfield, President and CEO, ITI
Gary Shapiro, President and CEO, CTA
Moderator: Michaela Ross, Homeland Security reporter, Bloomberg Government
Panel 2: Implementation of Anti-Botnet Capabilities
Nat Bongiovanni, Chief Technology Officer & Chief Information Officer, NTT DATA Federal Services, Inc.
Jason Boswell, CISSP, Head of Security & Digital Transformation Consulting Services, North America, Ericsson
John Godfrey, Senior Vice President of Public Policy, Samsung
Chris Baker, Data Scientist, Threat Intelligence, Oracle
Lorie Wigle, Vice President of Software and Services & General Manager of IoT Security, Intel
Moderator: Michael Bergman, Sr. Director, Technology and Standards, CTA
Closing
John Miller, Information Technology Industry Council (ITI)
About CSDE
The Council to Secure the Digital Economy (CSDE) brings together companies from across the information and communications technology (ICT) sector to combat increasingly sophisticated and emerging cyber threats through collaborative actions. Founding partners include Akamai, AT&T, CA Technologies, CenturyLink, Cisco, Ericsson, IBM, Intel, NTT, Oracle, Samsung, SAP, Telefonica and Verizon.
CSDE is coordinated by USTelecom and the Information Technology Industry Council (ITI).