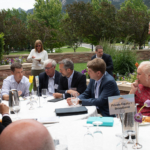 USTelecom brings together innovators in the broadband communications and technology arena who are competing, growing and thriving through the power and promise of connectivity. We bring together the key players to network, create new business opportunities and advance connectivity across the nation and around the world.
For more information contact members@ustelecom.org
Unique Partnership
Companies providing a product or service to the broadband ecosystem can connect with our diverse membership, representing some of the world's largest technology and communications enterprises, but also the leading national, regional and local independent carriers serving rural America.
Issues that Matter
USTelecom's members are firmly committed to working with policymakers at all levels to spur continued broadband infrastructure innovation, investment and deployment to all parts of the United States.  Your membership creates opportunities to partner with USTelecom on important industry initiatives, including: infrastructure, cybersecurity, 5G, and illegal robocalls to name just a few.
Year-Round Engagement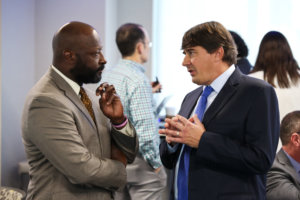 Partner Members have a year-round seat at the table, where you can build relationships and find opportunities to share your expertise, technologies and solutions via events, policy initiatives and high-quality engagement.
Participation in USTelecom virtual and in-person events as sponsor or attendee
Opportunities for your executive leadership involvement in invitation-only events
Webinars
USTelecom produces and promotes webinars on the connectivity-related topics of your choice.
For more information contact members@ustelecom.org