December 23, 2020
Faster Speeds, More Competition and Resilient Networks for Consumers
The U.S. broadband industry continued its impressive stretch of investment in network infrastructure in 2019, investing $78.1 billion—the second highest total over the past 10 years.  More importantly, this massive and sustained network investment is paying off for consumers – delivering resilient networks and more broadband competition at higher speeds than ever before according to the coinciding 2019 FCC broadband deployment data. Simply put, when providers invest, consumers win.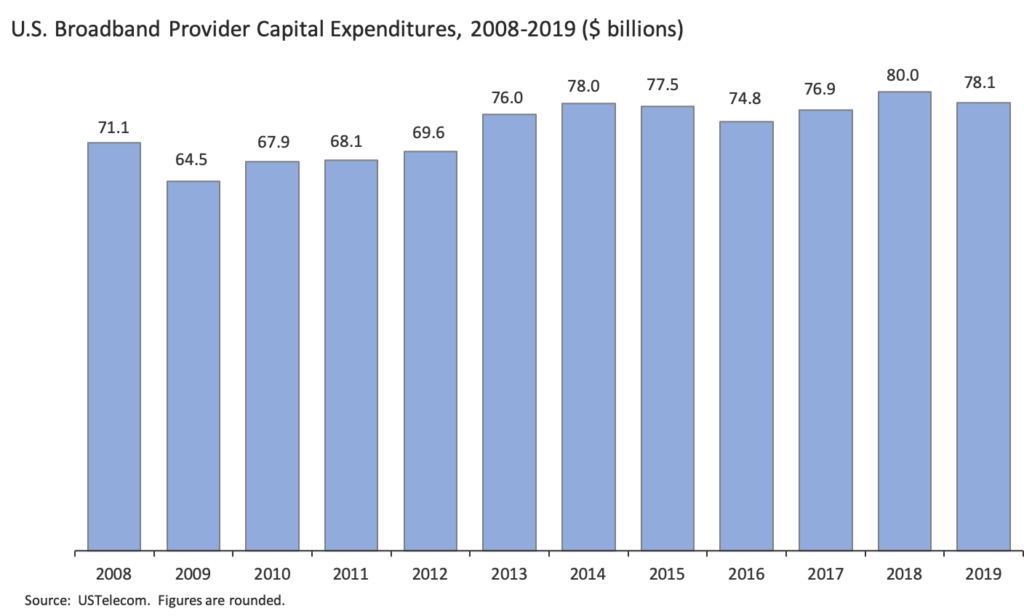 Network Investment
From 1996 through 2019, the broadband industry has made capital investments totaling more than $1.78 trillion (see Chart 2). USTelecom has published its broadband provider capital expenditures data series annually for the last 10 years. The data covers 24 years of broadband provider capital investment. In 2018-2019 alone, the broadband industry invested $158.1 billion in network deployments. In fact, the network investment in 2019 is the second highest since 2002.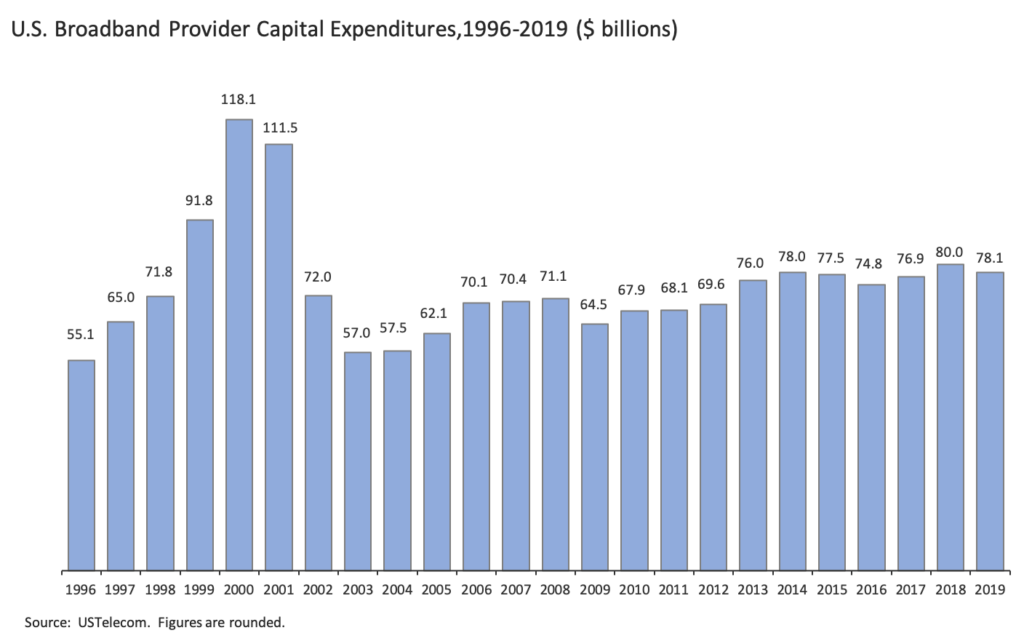 As the COVID crisis has shown, broadband is an indispensable tool for all aspects of American life, ranging from employment to education to healthcare. Investment remains critical to modernizing our nation's network infrastructure, maintaining international leadership, expanding economic growth and job creation, and closing the broadband gaps that exist in rural America.
In fact, the past investments are already paying significant dividends for American broadband consumers in the form of network resiliency. When the pandemic began, America's broadband networks were ready to handle the surge, performing better than their counterparts around the globe and with lots of extra capacity.  According to Broadbandnow.com, "Of the top 10 countries in the world by population, the U.S. is the only that recorded no download speed degradation on average in the month of April."
Deployment and Competition Rise in 2019
Faster speeds: Sustained U.S. broadband investment is also producing enhanced broadband speed availability and competition. At the end of 2017, half of all Americans could not access "gigabit" speed service (defined as 940 Mbps). In just the two years spanning 2018-2019, "gigabit" broadband availability increased to 86% of all Americans. Even more notable, competition in the "gigabit" speed tier has nearly doubled. This is even more remarkable when you consider only 6% of Americans had access to "gigabit" availability at the end of 2015—a gain of 80% over four years!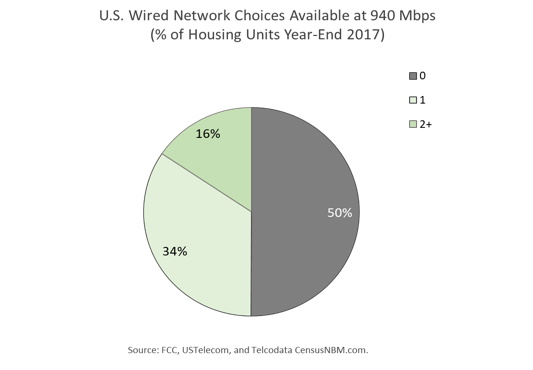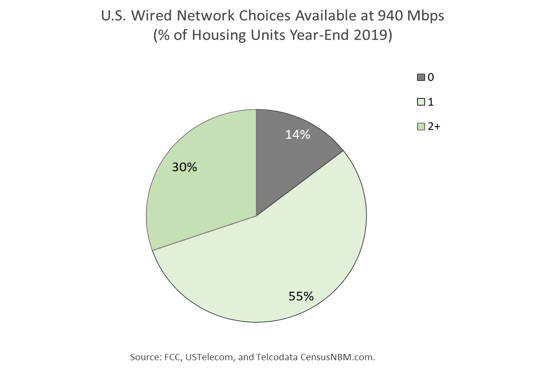 Market competition: Broadband investment has also increased market competition substantially. From 2015-2019, the percentage of Americans with access to two or more broadband service providers doubled—and this is even before factoring in fixed wireless internet service providers that also compete for customers.
U.S. Wired Network Choices Available at 25 / 3 Mbps
(% of Housing Units Year End 2015)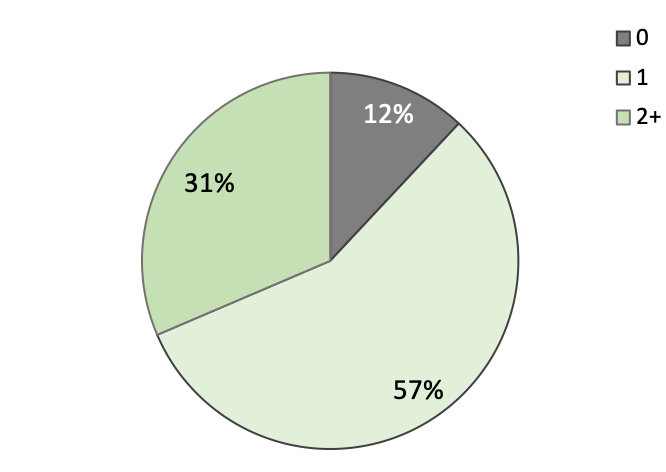 U.S. Wired Network Choices Available at 25 / 3 Mbps
(% of Housing Units Year End 2019)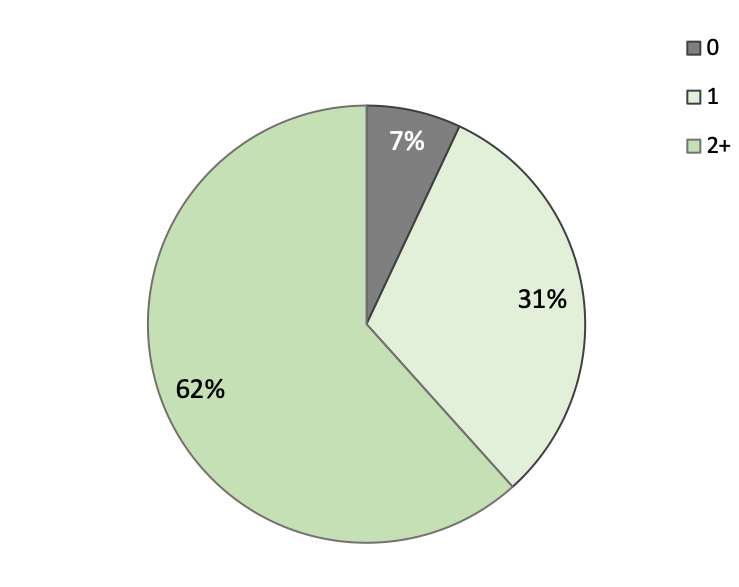 Bottom line: 2019 continued a period of sustained strong broadband network investment resulting in resiliency, marked growth of availability and enhanced competition – factors that were critical in keeping America connected when 2020 put the networks to the test.