October 18, 2018
Broadband investment rebounded in 2017, as a series of positive consumer and innovation policies and a pro-growth regulatory approach helped reverse the industry's previous spending pullback, according to new research released today by USTelecom.
The broadband industry is among the most capital-intensive sectors in the U.S. economy. Since 1996, wireline, wireless, and cable broadband providers have invested more than $1.6 trillion to build the competitive and innovative broadband infrastructure underlying our nation's world leading internet economy.
USTelecom's annual broadband capital expenditure report (1996-2017) shows broadband provider capital expenditures grew to $76.3 billion in 2017, compared to $74.8 billion in 2016, an increase of $1.5 billion.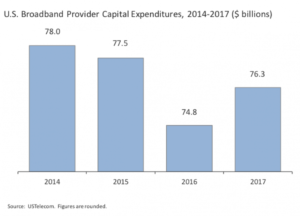 The 2017 increase comes after a two-year decline during which annual broadband capital expenditures fell a total of $3.2 billion, from $78.0 billion in 2014 to $74.8 billion in 2016. This spending dip began when the Federal Communications Commission (FCC) moved to impose common carrier regulatory classification—commonly known as Title II—on broadband providers in 2015. Growth returned after a series of pro-investment steps taken by the FCC and Congress, including the Restoring Internet Freedom Order, the tech transition order and tax reform. While many factors are at play, the parallel shifts in policy and capex suggest that policy expectations played a role, warranting additional analysis.
USTelecom's new data reflect capital investment by wireline, wireless, and cable broadband providers, including certain independent competitive providers whose data was not available when we issued a preliminary analysis in July. For a detailed explanation of the data, see the full research brief.
Ongoing broadband investment remains critical in our effort to modernize the nation's network infrastructure, maintain international leadership and close the digital divide that exists in too many pockets of America. Policies that encourage more investment can help to close these gaps and bring the benefits of cutting-edge broadband service to all American consumers and businesses.
Maintaining a regulatory environment that optimizes investment, encourages growth and prioritizes equitable treatment among all players will remain critically important in a sound 21st century broadband policy. As USTelecom President & CEO, Jonathan Spalter stated when USTelecom released preliminary broadband capital spending data earlier this year, "not only do policymakers have to get it right—they have to KEEP getting it right—and consistently pull in a constructive direction that benefits us all."