February 10, 2022
Memo to President and Vice President, Cabinet, Congress, NTIA, FCC, State and Tribal Policymakers on Implementing $65 Billion Broadband Investment
'Let's Get it Right and Get it Done'
WASHINGTON, DC – USTelecom | The Broadband Association, a leading association of connectivity providers and technology innovators, today released a new memo to President Biden and Vice President Harris, Cabinet secretaries, NTIA, FCC, Congress, Tribal leaders and state broadband offices with concrete recommendations to make the most of the $65 billion broadband investment in the recently enacted Infrastructure Investment & Jobs Act (IIJA).
USTelecom President and CEO Jonathan Spalter said: "With this commitment to privately delivered broadband, we've got a chance to finally and fully connect everyone in America – no matter where and no matter what. But, and it's an important but… we can't squander this once in a lifetime opportunity on experiments or approaches that have frankly failed in the past. Our message to policymakers: take a look at these concrete and specific recommendations from the providers who have been pulling the fiber and climbing the towers across the country in order to make the most of this investment and achieve our shared goal of 100 percent connectivity. Let's get it right and get it done."
USTelecom's 'Blueprint for Government to Finally and Fully Connect Our Nation' includes six recommendations for futureproof access to modern and reliable connectivity, including:
Value Experience
Advance Affordability
Remove Roadblocks
Add Expertise
Craft Policies for 2022… Not 1996
Spend Carefully and Efficiently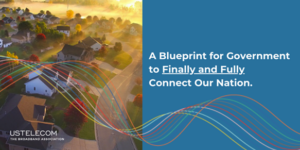 Read the 'Blueprint for Government to Finally and Fully Connect Our Nation' here.
---
ABOUT USTELECOM
USTelecom is the national trade association representing technology providers, innovators, suppliers, and manufacturers committed to connecting the world through the power of broadband. Visit us at www.ustelecom.org.
###